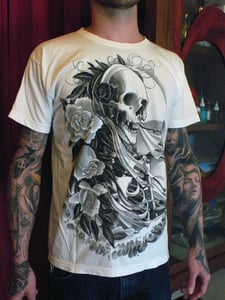 $

35.00
Skeleton and Veil Printed on Ultra Soft, White T.
We're Very Excited with How This Shirt is Printed. Graphic is Smooth, Not Thick and Heavy. Captures the Tonal Values of Kore's Painting That Served As the Inspiration for This T.
Printed on American Apparel White T.
PluraBella Printed on Back.
Comes with Skull and Chrysanthemum Sticker.
Availability
Medium - 22% in stock

Large - 0% in stock

Sold Out

XL - 0% in stock

Sold Out

2X - 20% in stock